Retaining walls and Hard Landscaping
Wall Builders in Newcastle
In areas where slopes are complicated and unserving, retaining walls can enhance the construction's stability to protect against lateral pressure of the soil on one side. Therefore, for good soil elevation, a retaining wall should if often what is required.
If you haven't decided on or realised the beauty of a great landscaping project, now is the time to start thinking about and appreciate the impressive finish it will add to your home.
Landscaping Newcastle

We find most people would love a perfectly landscaped garden.
Do you love reconnecting with nature? Are you fond of flowers, orchids, and plants? Can you feel the freshness of the air when you step outside?
A landscaped garden is there for a reason. For a retaining wall, it was not built out of nowhere for no particular reason. A retaining wall serves a significant use in helping the level of the ground, making it aesthetically appealing so it will blend with plants and trees and the house itself.
Hard landscaping projects are built for adding curb appeal, but they are more than that. A well landscaped garden, combined with an artistically designed wall will convert your lawn into a fantastic place to live.
Several houses have barren lawns and yards and their homeowners have never thought of adding some life into their property. With some newly built houses, they hire contractors for additional touch to their outdoor living space. While the interior has an interior designer, the exterior needs tending as well.
Builders of retaining walls must have basic construction knowledge to be able to deal with ground slopes and leveling. The assembly and construction should obviously be done by an experienced builder.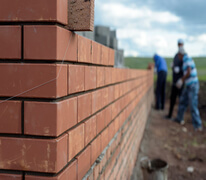 When considering an external building project, it should be built with stability as it appears side by side with the garden and its design should blend with the garden.
We have innovative ideas for creating your landscaping, let our contractors show you our gallery and portfolio of landscape design options. Or you may have something in mind that we can develop and customise.
Fill in the Contact Form or Call us Right Now….
Our team in Newcastle has been serving this area and nearby place. When we embark on a driveway and patio project using any kind of surface, our contractors will implement the following:
– Visit your site for lawn or yard for inspection
– If there is an existing garden, our engineers will decide if there is a need for re-excavation

– Calculate the costing and the appropriability of design to existing home

– Start excavating, cleaning, laying, and placing plants, building the wall
Our home improvement projects will put your home living to the next level.

Newcastle Driveways & Patio Pro are professionals who work with excellence in mind in all aspects of our craft. If our customers are satisfied, then this will serve as a testimonial.
Add life to your property and enhance your exterior's appearance. Think of the benefits of having a landscaped garden and spruce it up with a retaining wall.
Reach out to us and find out more of our fantastic services in the area of Newcastle. Call us now.
Fill in the Contact Form or Call us Right Now….