Paving Slab Installation Newcastle
Garden and Path Paving Slabs

Having to decide on the correct choice of slabs to lay is something we can help with. New slabs can make your garden jump back to life and even the most messy looking property can get a real facelift from this type of outdoor installation. If you want to create a wonderful space in your garden then the Newcastle Driveway and Patio Pro is here to help with perfect groundworks.

Fine Quality Paving Installation Contractors

Whatever the area of your external grounds or how detailed your design is going to be, we have some building experts to deliver. Our huge range of paving slabs for Newcastle residents means you have a great choice for your outdoor space.
Call us today for more information
Free Quote Call     
0191 6660350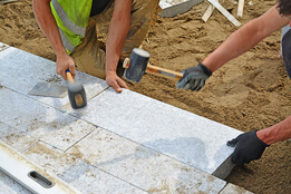 This page is under construction
Fill in the Contact Form or Call us Right Now….